We bring to you the third edition of Energy Recap, an editorial newsletter by TA to track and report on major policy developments in India's energy sector. Here are some of the key energy highlights from the week (14 to 20 June).
COVER STORY
Hike in fuel prices continues, but does it affect the government anymore?
On 18th June, the prices of petrol and diesel touched new heights, creating fresh records. In several cities, the fuel prices have touched Rs. 100 mark (Mumbai, Bengaluru, Bhopal, Delhi) making a big hole in the pockets of common man, especially in the light of the devastating second wave of COVID-19. This is the tenth rise in the retail fuel prices followed by a whooping 16 hikes in May.
Amidst such a crisis, the silence of the Modi government remains discomforting. When the economy and common man continue to suffer due to high prices of fuel, the incumbent government has decided to easily ignore the issue. It hurts more because during the run up to 2014 Lok Sabha elections, Modi and BJP based their entire campaign on issues of "vikas" (development) including the lower fuel prices for the citizens.
Seven years since then and fuel prices have touched record high prices under Modi's rule. In 2012 when a steep hike in fuel prices happened under the UPA rule, Modi termed it as the failure of Congress and set the tone for his political campaign. BJP disrupted the Parliament session over the price hike and collaborated with the Left front to stage a "Bharat Bandh". When UPA tried giving an explanation for the hike due to rise in global crude oil prices, BJP out rightly rejected it and blamed Congress for its ill-thought economic policies.
Today, the BJP is giving the same reason. In a recent press meet, the country's oil minister Dharmendra Pradhan has blamed global rise in crude oil prices for high increase in retail prices of diesel and petrol. He further shifted the onus on national GST council for deciding whether to take diesel and petrol under the ambit of GST regime or not, as doing so will result in significant decrease in the fuel prices, he said. Opposition including the Congress has been demanding that petrol and diesel be brought under GST.
BJP's entire blame on rise in global crude oil prices for increase in national retail fuel prices seems to be flawed. Examining the prices of global crude oil in 2013 and 2014, when it was at an all time high, the retail prices for diesel and petrol remained under Rs. 80 mark. Then, what changed? The policy of indiscriminate taxing by the centre and states has led to a massive shoot-up in retail prices of fuels, even though the price of crude oil is only 3.5% higher than at the beginning of 2020.
As COVID-19 has left India's economy in doldrums, record hikes in fuel prices have left citizens disappointed and troubled. As per a survey by LocalCircles, around 51% Indians are cutting on their other expenses to manage their spending on fuel prices. Around 21% of the respondents to the survey said that they are "cutting spending on essentials and it is painful" for them. Despite all this, there is no mention of high fuel prices in any of the public addresses (including Mann ki Baat) being made by PM Modi.
Interestingly, rise in fuel prices became one of the key reasons behind UPA government's fall in 2014. Indians were outraged and felt betrayed, the media and opposition stood united on the issue. Today, it seems like nobody cares. Media is under influence and the opposition is not strong enough to put pressure on the ruling BJP government like it did against the then Congress led UPA government.
Well, two things are crystal clear. There remains ample scope for states and centre to cut down on taxes. Second, PM Modi should come forward, engage in a dialogue and address the issue at hand. Ignoring such pertinent problems will only add to the list of questions being raised on his government's governance capabilities in delivering the poll promises made by him during the 2014 elections.
EXPERT SPEAK
Decentralized Renewable Energy Systems can play big role in ensuring sustainable agriculture
Decentralized Renewable Energy (DRE) systems can play great role in poverty alleviation and achieving zero hunger (SDG 1 and 2). More than 70% population in India is dependent upon agriculture and allied activities. Food waste/loss is one of the biggest opportunity in agri/food value chain. Post Harvest Solutions (like cold storage etc.) are one of the transformative innovation (around 8-10 years) which can affect the horticulture and vegetable value chain – though it requires greater capital investment.
In India, there is immense opportunity of integration of renewable energy to off set the costs, take care of food loss. With focus of states on cooperatives and Farm Producer Organizations (FPOs) – the biggest advantage application of DREs provide is lowering the per capita cost.
Applications like solar drying (for value addition and processing), milk chilling unit, running of flour mill etc. are some of the practical examples which are relevant in agri based industries. Pre harvest agri solutions like solar pump, irrigation etc. are also being used at many places with moderate success and has impacted the production.
There is need more research and awareness on the issue. Academic institutions should take responsibility of leveraging resources to serve the underserved communities.
Mayank Jain is the CEO & Co-founder at Sumarth Foundation based in Gaya (Bihar), working with the farming communities since 2015 and running development programmes on Onion, Mushroom, Honey and some more value added products.
OTHER KEY DEVELOPMENTS
Let's have a quick look at some of the key developments from the energy sector:
G7 countries to counter China's Belt and Road Initiative and US, India launch joint taskforce on Hydrogen
During the recently concluded G7 summit the partner countries have resolved to tackle the growing influence of China and its grand infrastructure project by offering help to growing economies. G7 aims to counter Xi's Belt and Road Initiative Plan. The G7 leaders, including US President Joe Biden were hopeful that this plan, also called as "Build Back Better World" B3W, will provide a transparent infrastructure partnership to streamline the $40 trillion needed by developing nations by 2035.
The G7 and its allies will use the B3W initiative to mobilise private-sector capital in areas such as climate, health and health security, digital technology, and gender equity and equality, said the White House official release.
In another key development, the United States Department of Energy (DOE), India's Ministry of New and Renewable Energy (MNRE) and the US India Strategic Partnership Forum (USISPF) have jointly launched a US-India Hydrogen Task Force. This is under the US-India Strategic Clean Energy Partnership (SCEP). After the new Biden administration took over, both the countries decided to revamp their strategic partnership to focus on clean energy sectors such as biofuels and hydrogen. new Task Force represents industry and government stake holders to assess technology status, study innovative policy options, and make recommendations.
Source: The White House | Business Standard
Carbon Neutrality in Ladakh: 19 Siachen villages to get electrified from hydro power
In a bid to realize its carbon neutral target, Ladakh will undertake electrification of as many as 19 villages in Siachen with supply from the Chamshen micro-hydel project (MHP). This will be a significant move in achieving Ladakh's target of carbon neutrality. The electrification of these villages would result in the phasing out of 3 DG (Diesel Generator) sets.
The Chamsen Project which drove the electrification was conceptualized under the Ladakh Renewable Energy Initiative ( LREI) and funded by the Ministry of New and Renewable energy (MNRE). The Lt. Governor of Ladakh also convened the meeting to explore the action plan to achieve the carbon neutral target and planning developmental activities to minimize the carbon footprint.
Source: The Hindu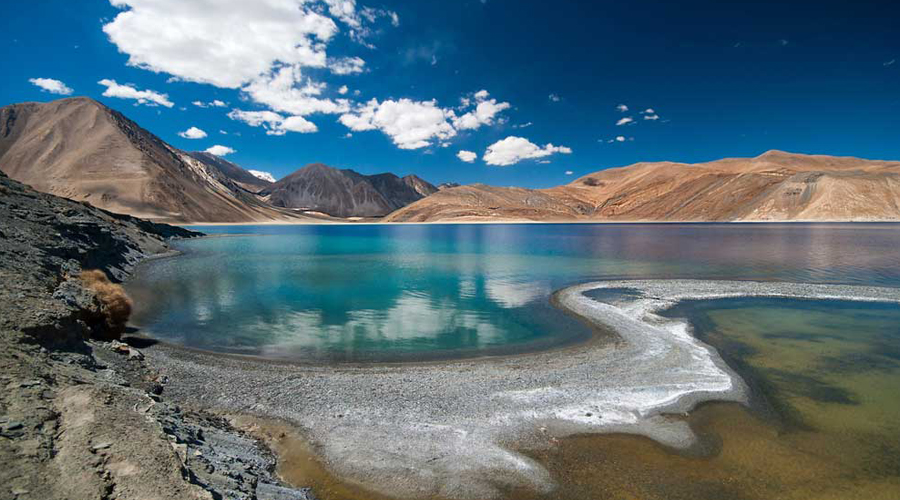 CM Stalin asks PM to intervene in proposed hydrocarbon project in Cauvery basin
Tamil Nadu Chief Minister M K Stalin in a letter to the Prime Minister asked him to cancel the bid process , invited by the Petroleum and Natural Gas Ministry for awarding the contract to explore hydrocarbon at Vadatheru in Pudukottai district in Cauvery basin. In his letter he stated that the identified area for auction falls in the Cauvery basin and also in the Protected Agricultural Zone declared by the state government, under the Tamil Nadu Protected Agricultural Zone Development Act, 2020. The law prohibits any new exploration, drilling or extraction of oil and natural gas and other hydrocarbons. The sensitive region plays an extremely critical role in agricultural purposes, said CM Stalin. He also expressed his displeasure at the way officials disregarded the sentiments of the farmers and farm workers in the region as they protested against the proposed project.
Source: The Hindu
The Analysis (TA) is a research and communication group | Analyzing India's legal, policy and political affairs. Write to us at contact@theanalysis.org.in